Welcome to our responsible/unbelievable/incredible/
dreamable/edible/washable/basketball...store.

Feel free to touch our item..................but don't feel too free.

Here's a deal for you.......
What's this about︎

Eye-rgan is a sci-fi immersive theatre piece written and directed by Dou Dou. It was presented in the Black Lab of Central Saint Martins in April 2022.
......
In the very near future, a new fashion trend is spreading, involving the trade of organs among humans on Earth. This technique is pioneered by a biomedicine company called Eye-rgan.

Yet, people are enamored with Eye-rgan—its offerings, its consumption, and most importantly, its control.

Now, Eye-rgan is caring you. Eyr-rgan is loving you, Eye-rgan is observing you and every other human being...︎︎

---
...
Dr K: 欢迎
Dr P: Welcome

Dr K: 欢迎来到我们的演出...
Dr P: Welcome to our show…

Dr K: 欢迎来到我们的展厅,或者你愿意的话可以叫它"商店"
Dr P: Welcome to our exhibition, or, if you like, you can call it "store".

Dr K: 总之,
Dr P: Anyway,

Dr K: 在这里,我们贩卖美丽与希望!!!
Dr P:Here we sell BEAUTY and HOPE!!!(blow bubble)
... ...
Happy to see our Customers are satisfied︎
---
@Eye-rgan your organ managment master!
@爱肝

您身边的器官管理大神!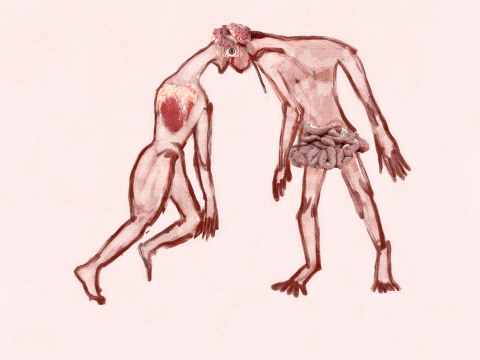 ︎︎︎A simple explanation of our five-star service.